Great West Casualty Company Presents: 2017 Fall Safety Seminar Series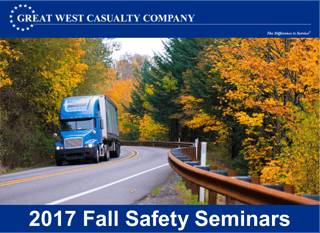 This is your opportunity to attend safety seminars with fellow trucking industry leaders and discuss critical topics.
Doors will open one half hour before start time. Refreshments will be provided. Online registration is strongly encouraged as space is limited for these free events! Click on the location below that works best for you.
For seminars located in Iowa, Kansas, Minnesota, Missouri, Nebraska, North Dakota, South Dakota, or Wisconsin, please contact Cheryl Jensen for further information: 800.354.1933 or c.jensen@gwccnet.com.
For seminars located in Georgia, Illinois, Kentucky, Michigan, Mississippi, North Carolina, Ohio, Pennsylvania, or Tennessee, please contact Jennifer Holmes for further information: 812.337.4208 or j.holmes@gwccnet.com.
---