REGULATORY COMPLIANCE

Click here to check if your company is subject to the Federal Motor Carrier Safety Regulations. If yes, and you fail to meet these requirements then you open yourself up to increased roadside inspections, potential fines, and possibly a compliance review by the FMCSA. All of these actions have the potential to damage your public image, interrupt your operations, and cost you money.
The Regulatory Compliance section focuses on aiding your compliance efforts. The tasks and resources below are for self-assessing your operations, identifying compliance deficiencies, and taking corrective actions.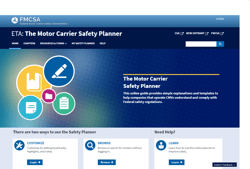 The FMCSA's Motor Carrier Safety Planner website is an excellent resource to educate you on the regulations, and help meet compliance requirements. Below are four tasks to help you address the key areas listed above. For additional information, check out all the resources at the Motor Carrier Safety Planner.
All motor carriers subject to the DOT regulations must maintain an accident register. A register is also useful for helping you track vehicle crashes, measure the cost of those losses, and identify trends so you can take corrective actions. Click on the Accident Register link to download a free copy from FMCSA.
Great West provides insureds with a more detailed accident register that captures more information than the FMCSA version. For a FREE copy, go to the Client Portal and request a booklet from our Order Safety Products page.
The Federal Motor Carriers Safety Regulations can be daunting and are updated regularly, so keeping up to date on regulatory changes is important. Below are resources to help you learn more about compliance requirements.
Log into the Learning Library and watch the following videos.

Drug and Alcohol Training: This nine-part series covers the FMCSA's drug and alcohol regulatory requirements.
Electronic Logging Devices (ELD): This video series explains the FMCSA's requirements for ELDs.
Hours of Service: This seven-part series covers the hours of service regulations and includes a downloadable Interstate Truck Driver Guide to HOS (PDF) for drivers.
Reasonable Suspicion Testing: Per FMCSA, personnel who supervise drivers are required to complete reasonable suspicion training. Completing this video series meets certification requirements and includes a printable certificate (PDF) for your records.
Visit the FMCSA's New Entrants website.
If you are a new motor carrier, or if you need a refresher, the New Entrants website includes helpful information on how the FMCSA monitors safety and how motor carriers can operate safely. Reviewing the information will help you prepare for a safety audit.
Utilize the FMCSA's Educational Tool for Hours of Service (ETHOS)

ETHOS helps motor carriers and drivers better understand the HOS regulations. Use this tool to identify potential violations. Links to the HOS regulations and Electronic Logging Devices (ELD) website are also included.
This material is intended to be a broad overview of the subject matter and is provided for informational purposes only. Great West Casualty Company does not provide legal advice to its insureds, nor does it advise insureds on employment-related issues. Therefore, the subject matter is not intended to serve as legal or employment advice for any issue(s) that may arise in the operations of its insureds. Legal advice should always be sought from the insured's legal counsel. Great West Casualty Company shall have neither liability nor responsibility to any person or entity with respect to any loss, action, or inaction alleged to be caused directly or indirectly as a result of the information contained herein.